Solomon P. Thorn was born on 1 January 1845 in Clintondale, NY. He was a leading fruit farmer and recognized political leader of Plattekill Township, Ulster Co., NY. Solomon attended schools in Clintondale until age 16, at which time he entered Union Springs Academy at Cayuga, NY. After two years tenure at Union Springs, he entered Eastman's Business College, at Poughkeepsie, NY. He owned a large fruit farm and made a specialty of manufacturing fruit packages as well as exporting water from the spring to New York City. He had a large and beautiful residence named Elixir Spring House (shown below) and in the summer it was filled with many boarders from New York City and beyond. He was a delegate to his party's state convention in 1887 and 1895. He was also supervisor of Plattekill in 1889 and 1890. He and his wife were members of the Clintondale Orthodox Friends Church.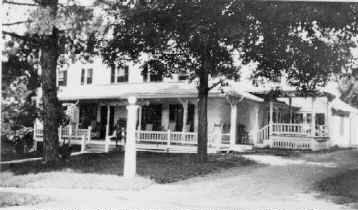 Solomon P. Thorn was a New York State Legislator and a friend of Theodore Roosevelt while Teddy was Governor of New York. Solomon married the former Katherine M. Hasbrouck on 31 March 1868. He died in October 1928.
Katheryn M. Hasbrouck (her first name was also spelled as Catherine and Katherine) was born
1844 in Clintondale, NY. She is a the second great granddaughter of Abraham Hasbrouck, Patentee of New Paltz, NY. She attended Marlboro Monthly Meeting and was appointed an Elder on 24 October 1823. She was received by request on 26 March 1863. She served for many years at the Clintondale Friends Meeting in various capacities until her death in 1935.
My father, J. Richard Thorn, recounts that one of the reasons he always liked going to visit his Great Grandmother was because she always had chocolate candies - a rare and expensive commodity during those depression years.
Solomon and Katherine had two children:
John Richard Thorn (b 1869)
Lewis M. Thorn (b 1872)