CLINTONDALE, NY
FRIENDS MONTHLY MEETING
50th Anniversary - 1939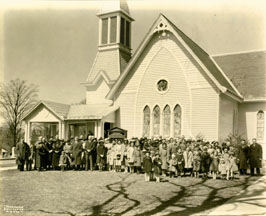 In February of 1939, the Monthly Meeting of Friends (Quaker) at Clintondale, NY celebrated the 50th Anniversary of the dedication of the present meeting house. As part of that celebration, a group photograph was taken (shown above) and a commemorative pamphlet was subsequently compiled by the then resident minister, B. Russell Branson. This pamphlet, for which no copyright exists, is presented here because it contains significant historical information about the Thorn/e, Coutant, and other ancestral contributions to the beginning, development and sustenance of this Quaker Meeting nestled in the Hudson Valley of New York State.
Click on one of the following to view the contents of this historical document.